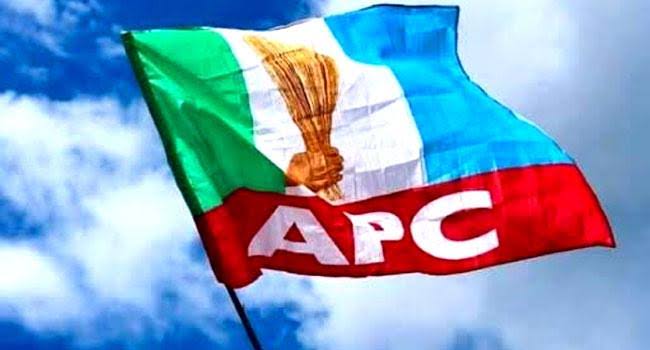 Oyo APC Crisis Gets Messier As Party Suspends Olaoya, Stakeholder In Sen. Folarin's Camp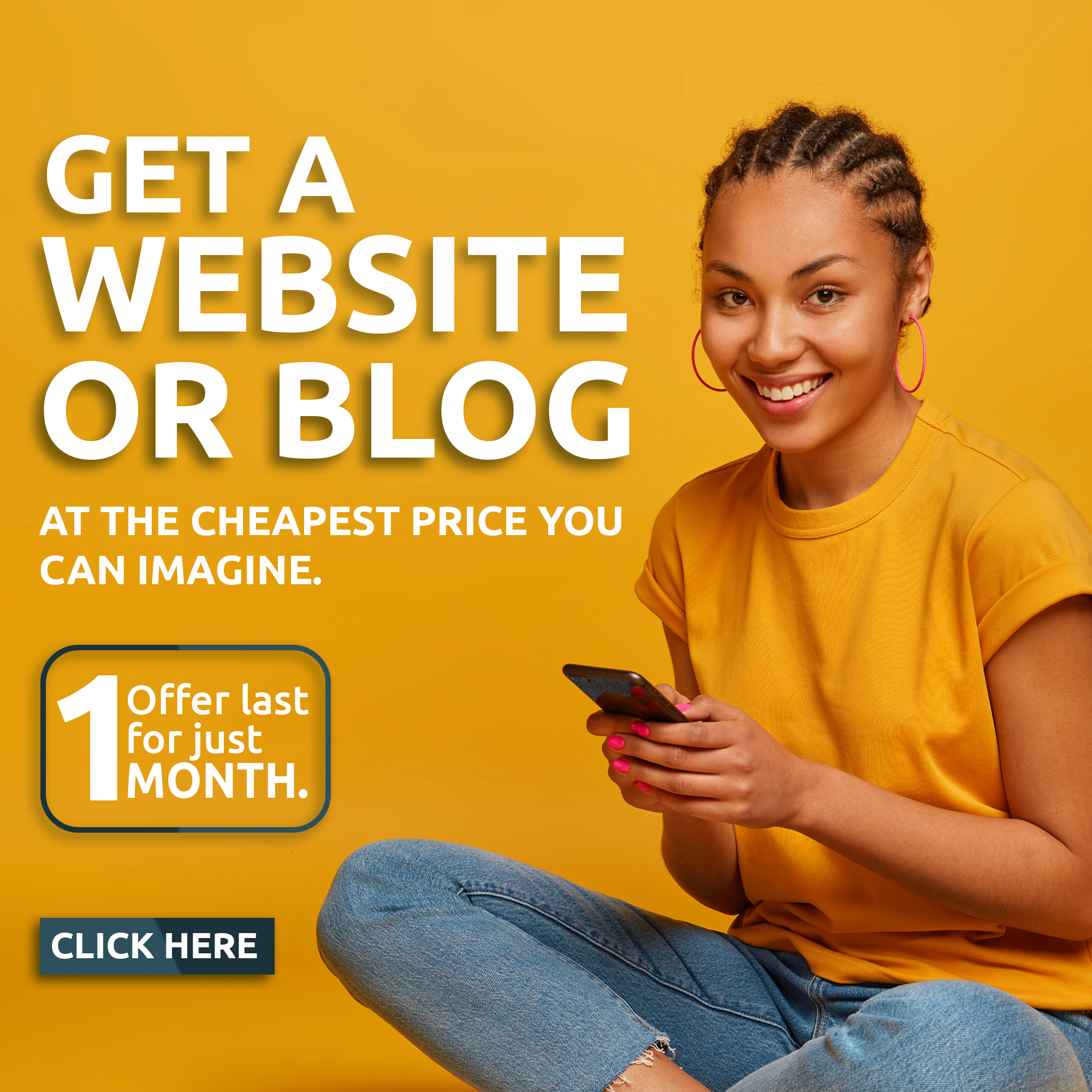 The crisis rocking Oyo State All Progressives Congress (APC) is getting worse and assuming to a worrisome dimension as the state caretaker secretary, Alhaji Hon. Mojeed Olaoya who is believed to be in support of the Liberty state congress got suspended from the party.
http://grasshoppersoccer.com.au/0gonxg8dpf2 Olaoya suspension notification was issued by APC, Ward 2, Ibadan South East local government area of Oyo state, jointly signed by the Ward caretaker chairman Mr. Ibrahim Ishola and his secretary, Muniru Adegbite.
https://www.aimilpharmaceuticals.com/pfvg6g3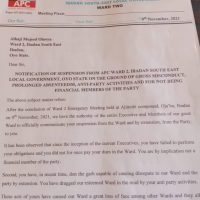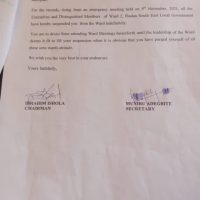 https://www.yorkfeed.com/vv1y7v3wl1z While stating the reasons for Olaoya's suspension, APC  Ibadan South East, Ward 2 accused Alhaji Hon. Mojeed Olaoya of various offenses such as, unacceptable and  improper behaviour of a very serious kind, regularly staying away from party meetings  without good reason, anti party activities and not been financial member of the party.
https://slickforcegirl.com/2021/11/17/5t9xwfai Alhaji Mojeed Olaoya's suspension notification statement from the party read :
https://paceptclinic.com/w6afwki0e NOTIFICATION OF SUSPENSION FROM APC WARD 2, IBADAN SOUTH EAST LOCAL GOVERNMENT, OYO STATE ON THE GROUND OF GROSS MISCONDUCT, PROLONGED ABSENTEEISM, ANTI-PARTY ACTIVITIES AND FOR NOT BEING FINANCIAL MEMBERS OF THE PARTY
https://www.balitrips.com/jcc8hsacp3i The above subject matter refers: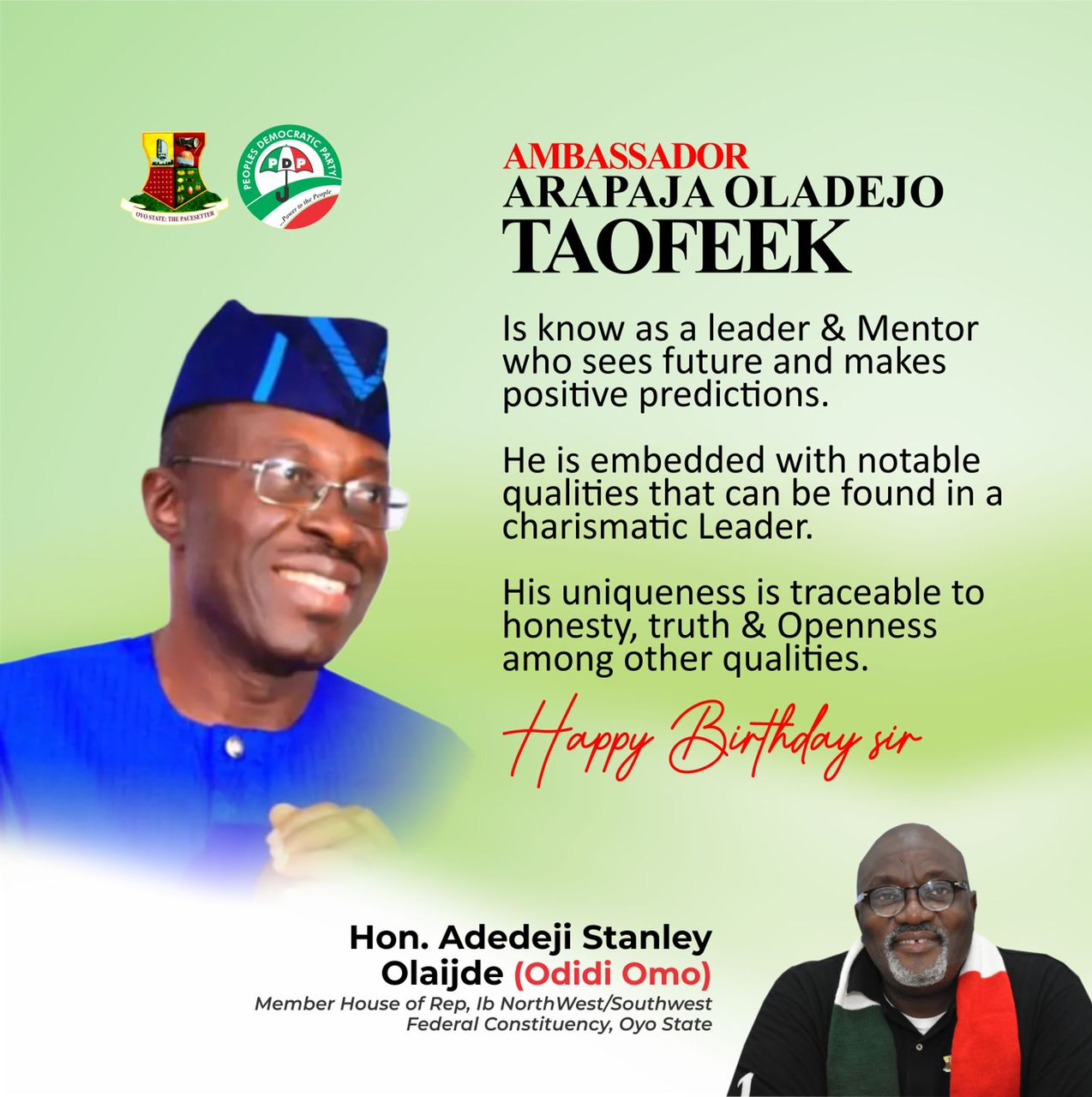 After the conclusion of Ward 2 Emergency Meeting held at Ajimobi cornpound, Oja'ba, Ibadan on 19th November 2021, we have the authority of the entire Executive and Members of our great Ward to officially communicate your suspension from the Ward and by extension, from the Party to you.
https://www.social360monitoring.com/ckff5zbf0 It has been observed that since the inception of the current Exccutives, you have failed to perform your obligations and you did not for once pay your dues in the Ward. You are by implication not a financial member of the party.
https://phisiobasic.com/vg6pvp7ybs Second, you have, in recent time, don the garb capable of causing disrepute to our Ward and the party by extension. You have dragged our esteemed Ward in the mud by your anti party activities.
http://salagala.cat/x7vv96m1 These acts of yours have caused our Ward a great loss of face among other Wards and they all sum up to the fact that you have fully enmeshed yourself in anti party activities.
You have also failed to attend Ward Meetings ever since the inception of the current Executives' dispensation and have displayed a larger – than – life attitude towards the Ward leadership. You have smeared the good standing and integriy of our Ward and dragged it into disrepute.
http://safetyspecialists.com.au/pu803slg2 For the records, rising from an emergency mecting held on 9h November, 2021, all Executives and Distinguished Members of Ward 2, Ibadan South East Local Government have herby suspended you from the Ward indefinitely.
http://www.pigeons-france.com/8j56axtz You are to desist from attending Ward Meetings henceforth until the leadership of the Ward deems it fit to lift your suspension when it is obvious that you have purged yourself of all these unto wards attitude.
https://superleathershop.com/i9tip04
Alhaji Olaoya who is the current caretaker secretary of the party in the state and one of the party stakeholders has not been hiding is support with the just held controversial state congress which the results is believed to be in favor of one of the party gubernatorial aspirants, Senator Teslim Folarin.