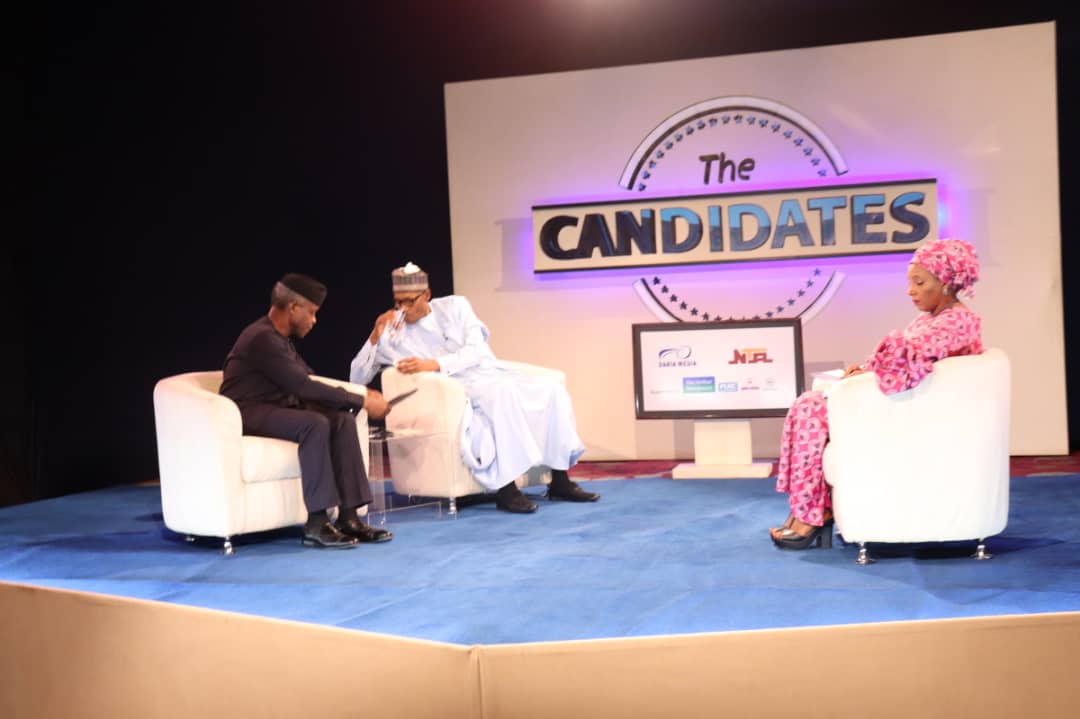 If I lose, This Will Not Be The First Time I Would Lose Election – Buhari on a live TV Town Hall Meeting
In preparations for the 2019 general elections, President Muhammadu Buhari and his vice, Prof. Yemi Osinbajo participated in a live TV two-hour town-hall programme at the Ladi Kwali Conference Centre, Ballroom of Sheraton Hotel Abuja. Westerndailynews reporting to you the minute to minutes activities of the live interview.
Town Hall meeting starts 8.01 PM Wednesday 16th January 2019.
8:04: The town hall meetings kicks off as President Buhari and Vice President Osinbajo are seated Their citations are recited.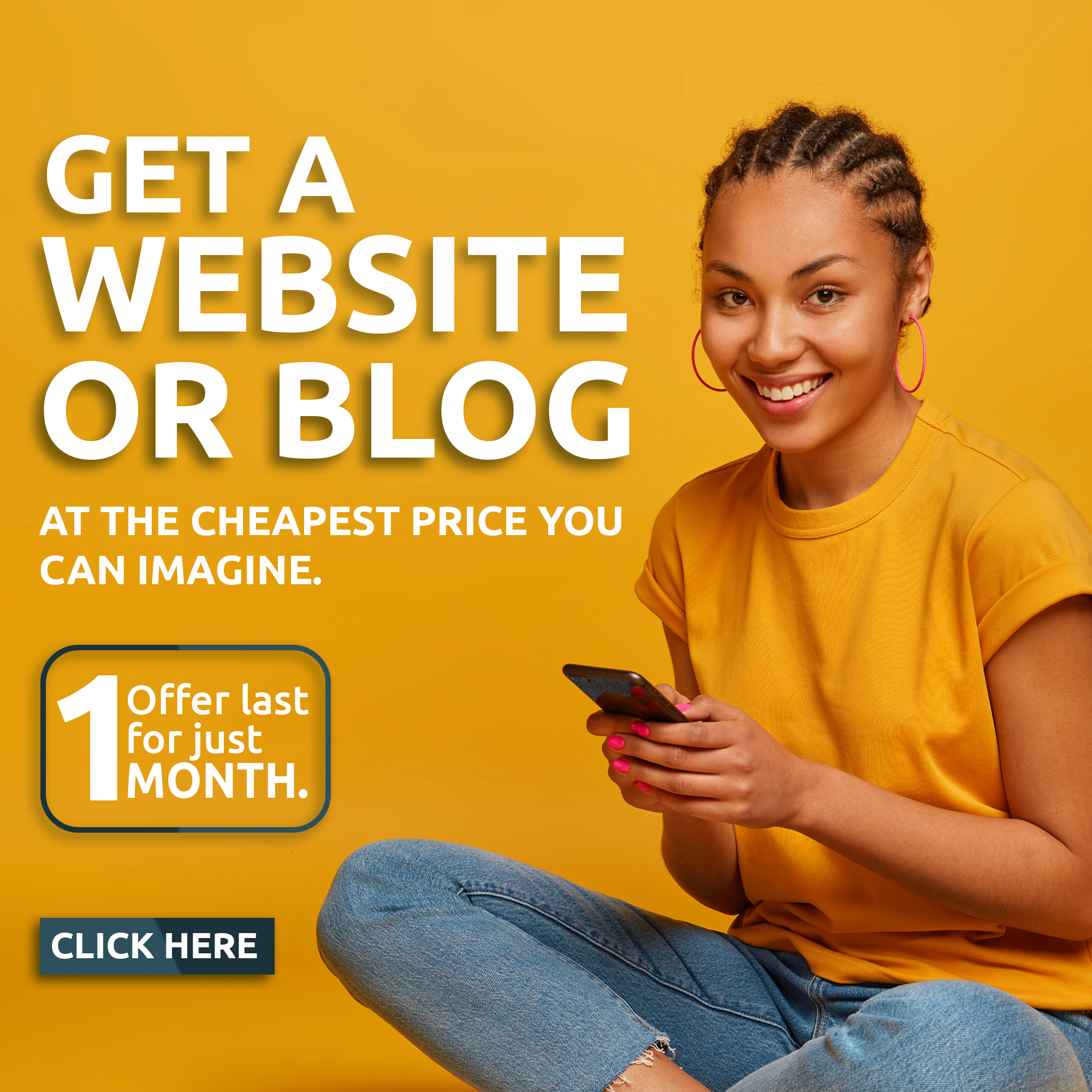 8:10: Buhari while answering question on why Nigerians should vote them in again reminds Nigeria to see where the country was in 2015 and where the country is now
8: 13: We have laid a very strong foundation on our fight against corruption, and we hope to do more – Yemi Osinbajo
8:14: The president denies that his administration has ignored corruption allegations from inside his presidency.
8:15: Asked about the case with Babachir,and why the EFCC still has not investigated the former SGF, President Buhari says " to be fair to individuals, then the people should help with evidence and trust the system and allow the EFCC and ICPC to do their job "
8:15: On Babachir Lawal, President Buhari said his administration, as opposed to his military days cannot prosecute people without following due process
8: 16: We have to trust the system to investigate and bring the various cases to a conclusion"- Buhari
8: 25: President Buhari, Osinbajo explains the appropriation of funds used for the northeast crisis
8:30: The session is on break:
.
8:34: On solutions to the Almajiri problem, Buhari says it is important to look at allocation of resources to the federal, state and local tiers of government.
8.35: I expect the press to expose corrupt local and state governors"- Buhari.
8:36: Speaking a question on disability bill, President Buhari says he "honestly cannot remember" how far the National Assembly had gone on it
8: 39: On the conflict between herders and farmers, President Buhari said the federal government foresaw this problem . He said there has been encroachment on grazing routes as shown in maps. He said the government is working on solution
8:40: Vice president Prof Osinbajo said federal government do not own lands and that only states control lands. He said governors were urged to support the government in creating spaces to facilitate grazing or ranching.
8:51: Osinbajo explains that the solution being devised by the government is a mixture of ranches and grazing areas.
8: 52: On what the government is doing to end farmers, herders clash, Prof Osinbajo said the minister of environment is looking at the effect of desertification. He also emphasize the need to recharge the Chad basin.
8: 53: Creating ranches will be the long term solution to the farmer-herders conflict but the ranches have to be privately owned- Osinbajo
8:54: The session is on another break
9:01: The moderator asks the Vice-President, being a lawyer, to explain cases of people forfeiting their assets to go government without a court conviction.
9:02: Osinbajo gives a few examples, including the case of people who return assets rather than go to court with the EFCC.
9:04: On the recovered loot, President Buhari said the Treasury Single Account allows the monies to enter a single channel and how the money is spent. He said such monies are being used to fund part of the budget
9: 06: On Boko Haram – The technically defeated Boko Haram is still killing people in the North. What has really gone wrong with your war against Boko Haram?
9:07: On the fight against Boko Haram insurgency, President @buhari said Boko Haram has resorted to indoctrinating young people to attack soft target. He however said the people in the north east can confirm that positive impact has been made.
9:13: On soldiers commitment: "Commitments of Nigerian troops are unparalleled" – Osinbajo
9: 14: President @MBuhari said Boko Haram are being supported by forces outside Nigeria. He said military needs more funding to continue to achieve success.
9: 15: On the welfare of the Nigerian Army – I believe the system is still working , if not there would have been a total breakdown – Buhari.
9:16: Andrew Ogboro says Buhari has done very well in the last four years. However, corruption, security and the economy were the campaign bases of this administration in 2015.
9:16: He says that since the President has explained that we won't make progress in security unless we get more money, and that a corrupt fellow like Babachir Lawal had been sacked, all that was left was for him to be told the problem with the economy, so that he could go home to decide whether to vote for him in February or not.
9:17: Another member of the audience asks the President what he would to people who have stolen the country dry, were to gain re-election in 2019.
9:19: Osinbajo's explanation is that this government has done more to fight poverty, despite earning less, than the PDP government did in 16 years despite earning significantly more.
9:20: Professor Yemi @ProfOsinbajo said the administration is working on alleviating poverty and referenced the tradermoni progrmme.
9:23: "Poverty doesn't just disappear; you have to deal with it," Osinbajo says. "And we are dealing with it every day."
9:25: Moderator: Many Nigerians, the PDP and APC are two sides of the same coin — because many people from PDP have gone to APC, and vice versa. What is the difference between these two parties?
9:26: On the difference between APC and PDP , Prof. Osinbajo said at the core of the APC is a core belief which is social change. He said regardless of whether some PDP join the party, the ideology of the APC will not change
9:27: The moderator announces another break
9: 30: The President is asked why the bribery allegations against Abdullahi Ganduje, Governor of Kano state, have not been investigated.
9:31: The President is asked if the people should expect the same thing from him if re-elected or if he would step up efforts.
9: 33: Osinbajo tries to intervene but the moderator cuts him short
9:33: Moderator to Buhari: Are you getting a little bit frustrated by the slow pace of your fight against corruption?
9:35: Moderator to Buhari: Are you getting a little bit frustrated by the slow pace of your fight against corruption?
9:37: Moderator to Buhari: Are you getting a little bit frustrated by the slow pace of your fight against corruption?
9:38: 'I can't afford to get frustrated," he says, to which the audience applaud.
9:45: President @MBuhari said records are being checked so as to pay retired soldiers. He said there has been corruption in the system but assured that these soldiers will be treated well.
9:53: Moderator to Buhari: Mr. President, there have been concerns about your health. If you win, are you fit and healthy enough to lead?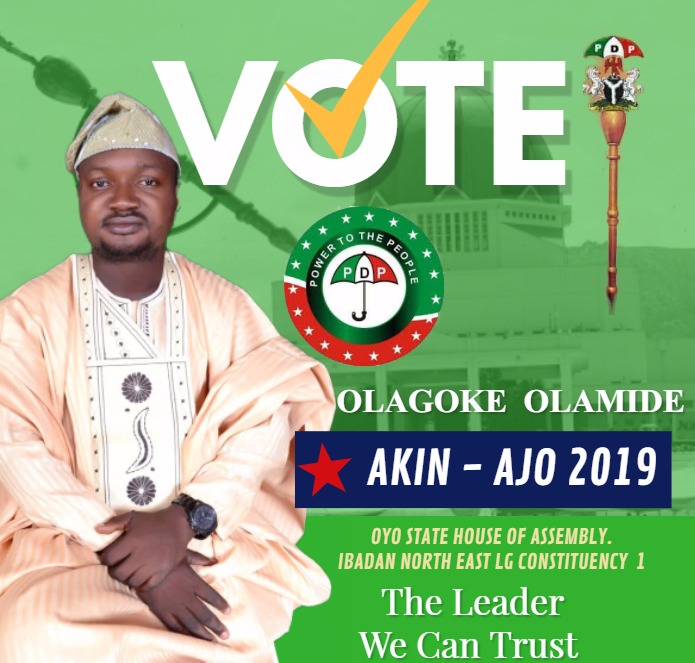 9:53: And to both of them:If you lose, will you accept the result?
9:54: Buhari says this will not be the first time he would lose election
9:55: We have come to the end of the programme – Moderator
...For the latest news update, Subscribe to our Whatsapp Channel
(Click Here)
and join our Telegram Update Group
(Click Here)