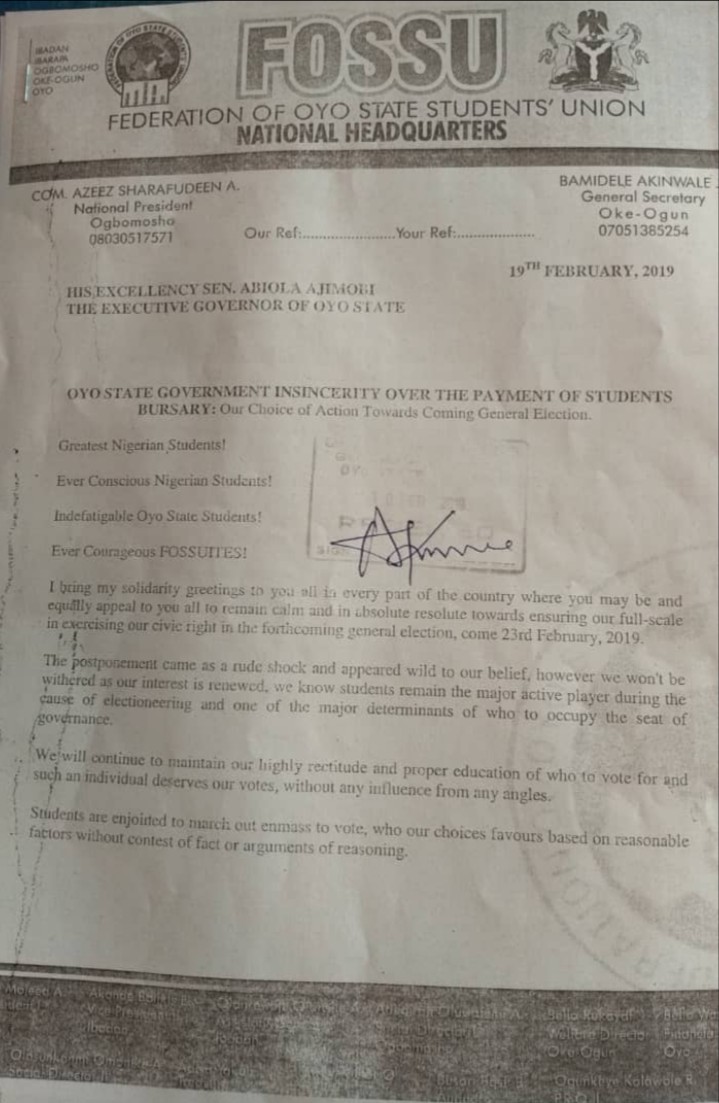 FOSSU Threatens Protest Of Non Payment Of Bursary By Oyo State Government
The Federation of Oyo State Student Union under the leadership of Comrade Azeez Sharafudeen has again reminded the Ajimobi-led government of several promises made to release the state students bursary.
In a letter signed by the president of the association, Comrade Biafra, addressed to the executive governor of Oyo State, Senator Ishaq Abiola Ajimobi, copied the Chief of staff to the Governor Dr. Gbade Ojo and Mrs. H.O. Ogunesan
The head of service oyo state, the content which expressed disappointment at the OYSG also contains advice to the state government and likely unfriendly students reaction if the Ajimobi government failed to release the long overdue student bursary.
Part of the letter read, 'hence, government are advised in their interest to call for a decisive measure at which the long overdue impasse over the payment of students bursary could see an end'.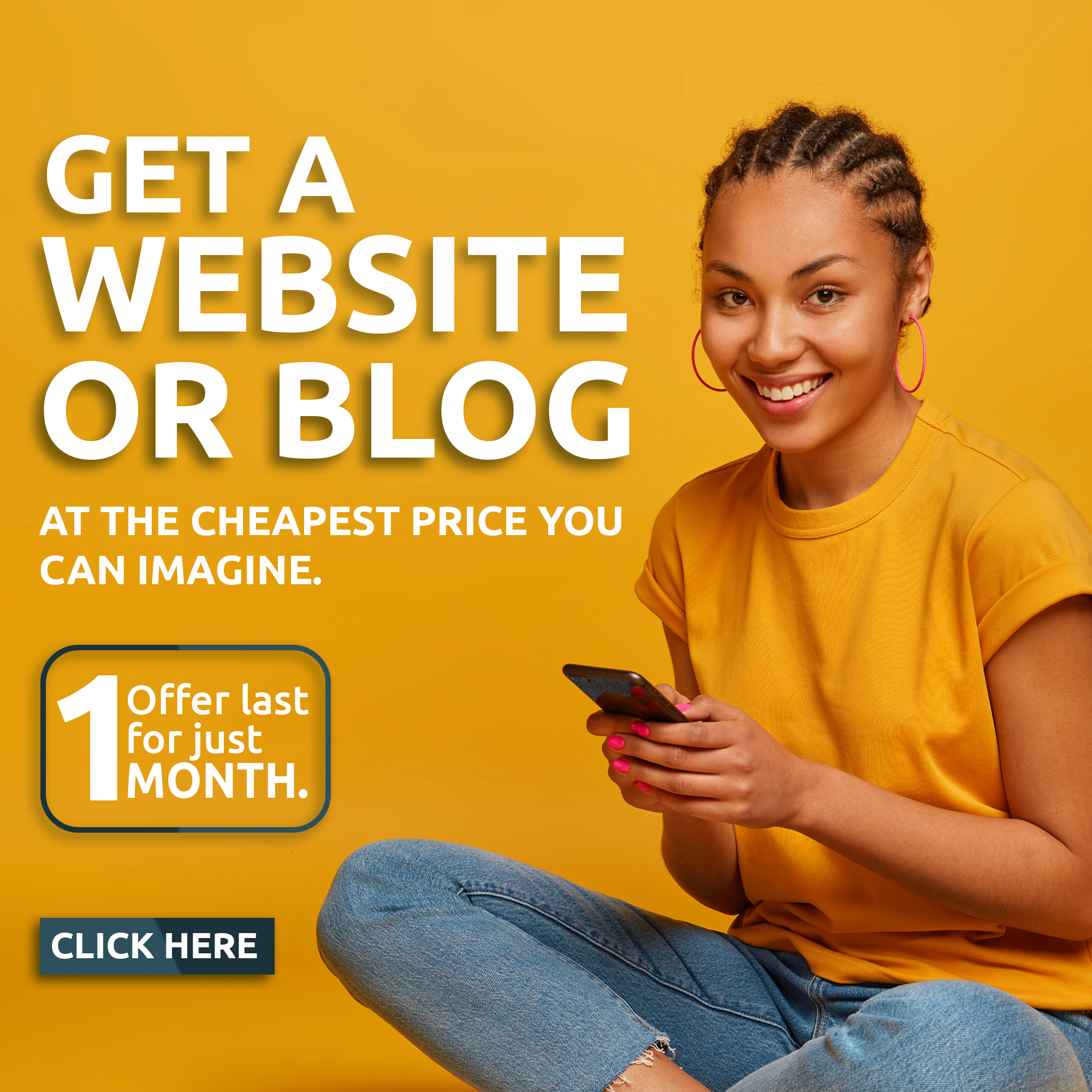 Days left before the general election is enough for meaningful and positivity, if government are to be sincere and not undermining the influence of students' movement over the fate of national election. We'll again march out against the reign of government that lacks sincerity, when nothing is done after Presidential and national assemblies election.
Our choice of words are not out of play and gimmick, as we're ready to see to the end of government that render student's constituency irrelevant.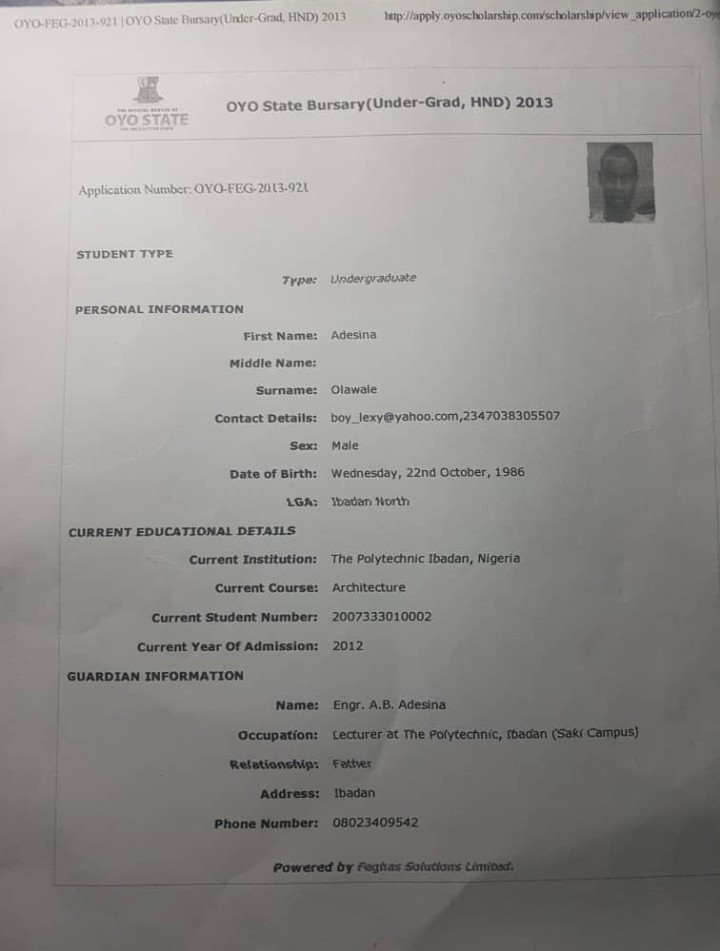 In a telephone tips with the president of the association after Westerndailynews got the copy of the letter in the office of the governor, Comrade Azeez Sharafudeen said, it is high time the Oyo State student got their entitlement from the outgoing government, he stated the level of their perseverance and the needs to ask Governor Ajimobi and his agents what they did with the N1,200 online payment form collected from over 50,000 students to process unpaid bursary since 2013.
"We have dropped our letter and copied concerned offices, if we do not get response within a few days, our choice of action towards coming governorship election will be aggressive "
...For the latest news update, Subscribe to our Whatsapp Channel
(Click Here)
and join our Telegram Update Group
(Click Here)