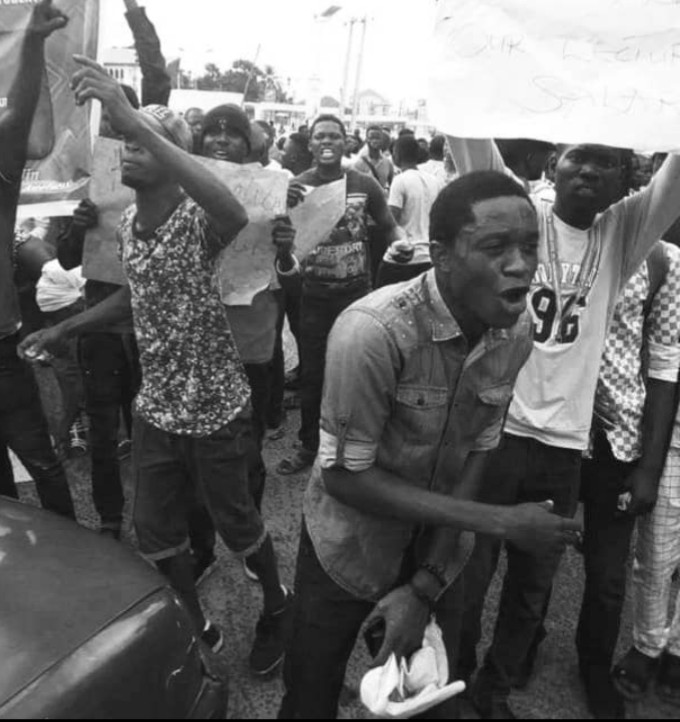 FOSSU: Advocate Declares Interest To Run For National President
The Oke Ogun born Ridwan Fasasi Balogun ( Advocate ) on Saturday formally declared his intention to run for the Federation of Oyo State Union National President in the July 27th 2019 association election.
Advocate announced his intention to Westerndailynews in a press release made available on Saturday night.
In his release, Comr Ridwan (Advocate) seek to continue serving the student's constituency under the platform of FOSSU and promised to set the right course for Oyo State students.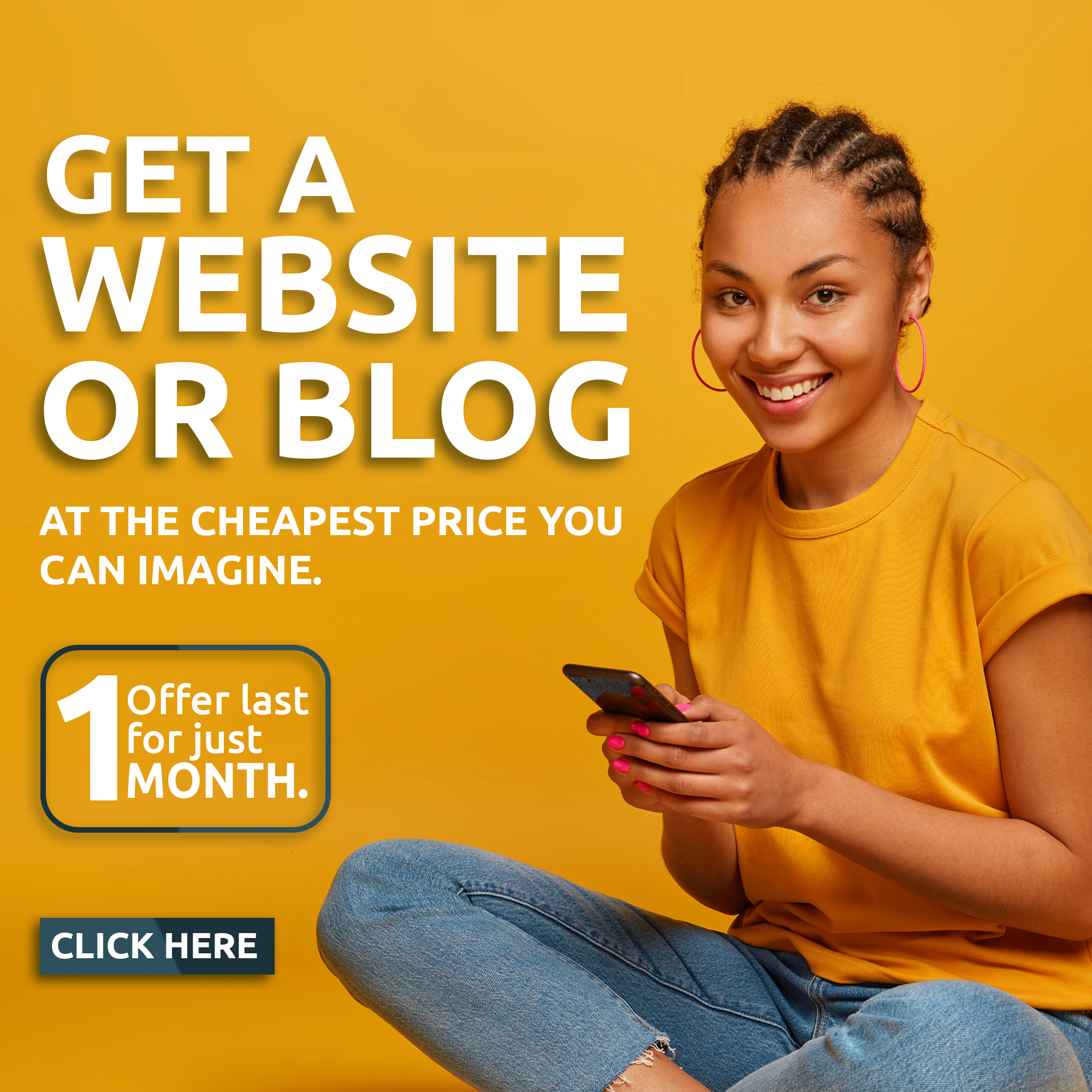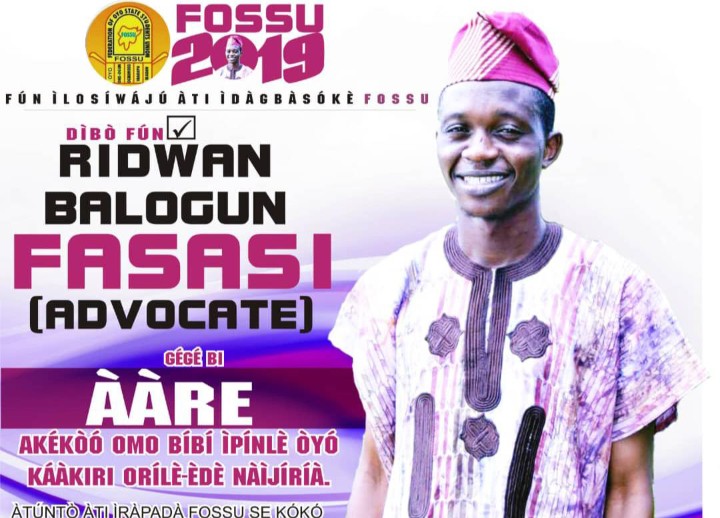 2019: Full text of Ridwan Fasasi( Advocate ) declaration to run for FOSSU National president
Combatants greetings to all ideological leaders of our dear union, FOSSU, council of elders and eminent stakeholders, league of zonal Presidents, amiable members of FOSSU and entire students of Oyo state across all institutions; both home and in diaspora.
Accept my revolutionary regards and spare me some, out of your precious time, as I take you through the essences and reasons, I'm writing to you.
Permit me to formally introduce my self, as traducers have secured unprocessed form to write for me without my knowledge, Alas! Politics shaa! Dirty as it is, I was maligned to an exalt. But, was only wondering what could have been their gain and returns for such an activity.
I'm Fasasi Ridwan Balogun, popularly called (Advocate) was born over two-decades to the family of Mustapha Fasasi Gbolagade of Balogun (Alaso-dudu) Compound, Ipapo town, in Itesiwaju local government area, Oyo North of Oyo state.
I attended Anwarul Islam Primary School, Ipapo, before I proceeded to Ojongbodu Grammar School, Oyo and later Anwarul Islam College, Oyo where I obtained my SSCE. I attended the great, Emmanuel Alayande College of Education, Oyo (formerly Oyo State College of Education, Oyo) for a certificate in teaching profession. God's willing, today, I'm a matriculated student of the prestigious University of Lagos, Akoka Lagos, studying Chemistry Science and Education.
The above extraction of my family and educational background is considered necessary, as its provision would be a measure to dispel series of unfunded stories, maligners have published about my humble person, and equally to affirm my studentship and indigenous status. Dear distinguished readers, thanks for being patient with me, I hope not to get you bugged, as we slides on to the next page. Thanks!
During those previous years of my educational journey, I participated in numbers of social and educational activities, I was able to coordinate students' activities as a Senior Prefect Boy, during my primary and secondary school education.
During my stay in college, I was opportune to serve as vice-president of Chemistry dept., and series of other capacities where I rendered my selfless service. As a NANS national officer, I served as the Special Assistant on Media and Publicity to the NANS V. P External. I was a member of campus journalists and as an active member of some other groups of Campus activists during my time in the College, and finally I served as a team of media crew to the FOSSU national council.
Distinguished readers and fellow alutarians, I humbly seek to continue serving the student's constituency under the platform of our dear association, Federation of Oyo State Students' Union (FOSSU) national council, as her National President. My interest in seeking this office is a resolved decision to bring about innovations and to render my selfless service for the betterment of entire students of Oyo state, both home and in diaspora. I wish to externalize my pool of experiences in student's movement to ensure the glory of our noble association continue to live and functional, through the revolutionary path of Redemption, Reformation and Rejuvenation.
My commitment and dedication is resolved only for a better positioning of our dear union, FOSSU and to adorn her name in the face of many individual bearing misconceptions about our ideological union.
I hope to have your extended hands of support and fellowship in joining us to build the roadmap to FOSSU 2019, the hope and dream of bringing new ideas and innovations is my priority and of resolute decision.
Greatest FOSSUites, that historic moment is here again, where we come together to elect another set of competent individuals to paddle the affair of our union for another run of dispensation. Let's be mindful of our collective and individual decision as a member of congress, as it takes an acute position in the dimension of the political history of our dear union.
To electoral umpire, the independent FOSSUIEC, I wish to enjoin you on ensuring the level ground play, free, fair and credible conduct of election, all in the best interest of our union.
To my fellow contenders, I want to believe, we all share good intention and motive for deeming it fit to find our way into the race, I want to enjoin us all to shun any activities or moves that may tends to thwart the peaceful conduct of election and ensure we do all we can in our disposal, in the best interest of promoting peace, oneness and progress of FOSSU.
Thanks for reading… I remain my humble self, Advocate of Peace and Justice. Fasasi Ridwan Balogun
Aspirant, FOSSU National President .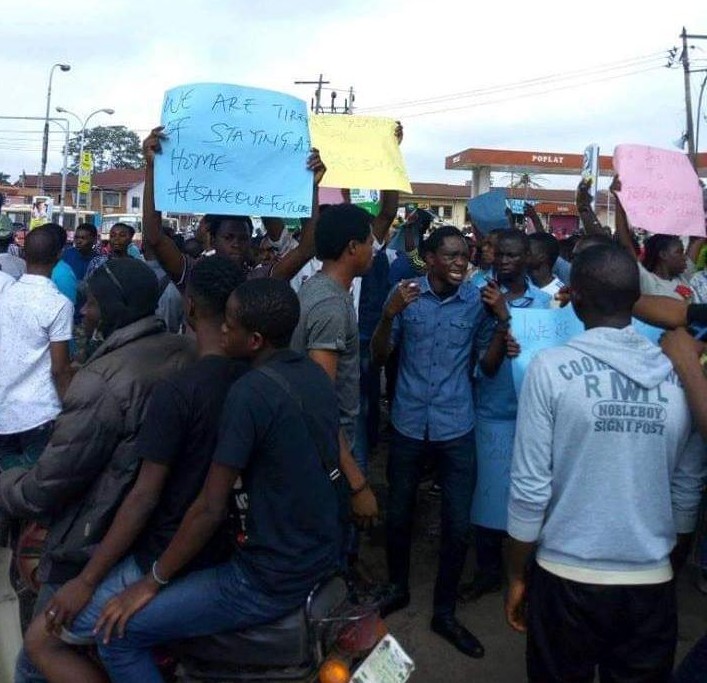 ...For the latest news update, Subscribe to our Whatsapp Channel
(Click Here)
and join our Telegram Update Group
(Click Here)