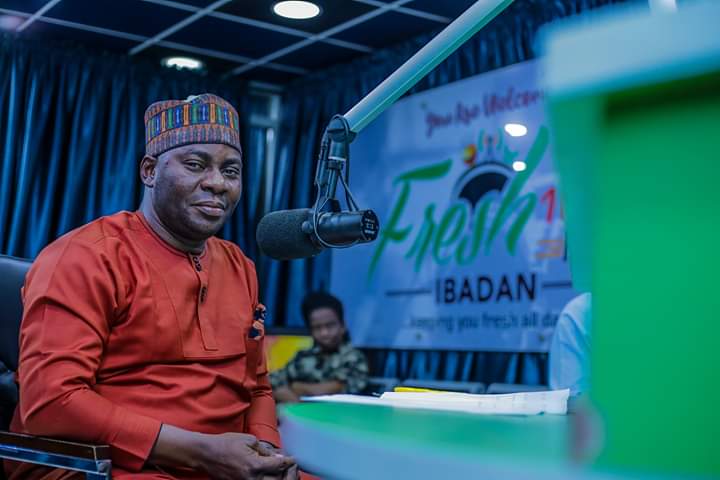 Covid-19 : All Entry Points Into Oyo State Land, Airways May Be Closed – Fagbemi OYRTMA Boss
Inline with the Oyo State Government's effort to stop the spread of Coronavirus, Mogaji (Dr.) Akin Fagbemi, Executive Chairman, Oyo State Road Transport Management Authority (OYRTMA) was earlier today at the COVID-19 situation Room on Fresh 105.9FM, Ibadan where he sufficiently explained guidelines and directives to stop the continuous spread of the Coronavirus (COVID-19) in Public Transportation Environments in the State.
Dr. Fagbemi seized the medium to further revealed that the State Government is seriously monitoring the situation across the state, said that more stringent actions to further corroborate the existing guidelines and directives as earlier publicized may be taking includes but not limited to the following:
All entry points into Oyo State (land and airways) may be closed. Entry and transit by any vehicle would be subjected to robust health check of all passengers.
Directive shutting all educational institutions in the State remains in effect until further notice.
Civil servants on Grade Level 1-13, except those on specified essential services (medical personnel, revenue officers, law enforcement) may have to remain at home and away from work till advised otherwise.
All social, cultural and religious activities remain suspended and essential activities must not have a crowd beyond 5 persons. We solicit everyone's prayers from the safety of their homes.
Tricycle (keke) operators may carry only one (1) passenger at a time and must provide hand sanitizers for use by their passengers. Relevant enforcement officials would be authorized to stop and enforce compliance. Defaulters will be arrested.
Regular 4-wheeled taxis (Micras) may carry only three (3) passengers at a time (1 in front and 2 behind) and must provide hand sanitizers for use by their passengers. Relevant officials are empowered to stop and enforce compliance. Defaulters would be arrested.
Buses may carry only two (2) passengers per row of seats, subject to a maximum of 10 passengers per trip for any type of bus. Relevant officials would be empowered to stop and enforce compliance. Defaulters would be arrested.
All public areas, pubs, bars and restaurants are limited to 5 customers at a time, seated apart in line with the social distancing guidelines. Operators and customers are advised to utilise delivery and takeaway options more during this period.
All transport companies, transport unions and terminal operators must keep a travel manifest for inbound and outbound passengers, especially verified phone numbers. They must also provide hand-wash stands with soap in the garages and hand sanitizers in the buses. Passengers are required to cooperate by washing their hands with soap and water and sanitize them before boarding. They are to be denied boarding if they fail to comply with the hygiene procedures.
All corporate premises and large businesses in the state must keep visitors registers as well as take the temperature checks of guests and visitors using a non-contact infra-red thermometer. Any guest with high temperature above 38 degrees Celsius must be reported immediately.
Wilful breach of these guidelines, the unjustified inflation of prices of any essential commodity and the making or spreading of fake news or hate speech during this period of trial will be regarded as sabotage and punished accordingly.
Commercial motorcycle operators may have to suspend their operations. Strict compliance would be mandatory. With this, we will be able to ensure compliance with the social distancing procedures as well as discourage people from coming to the public space indiscriminately.
Members of the public are to report suspected cases of COVID-19 to the Nigeria Centre for Disease Control (NCDC) via the given hotlines or to the Oyo State Emergency Centre Line of the State's Ministry of Health at the numbers below:
a. 08038210122
b. 08023229267
c. 08073431342
d. 08180666613
The Oyo State Road Transport Management Authority would in conjunction with other security agencies enforce compliance to these preventive measures using various task-forces and people are encouraged to avoid falling victim to the law by voluntary compliance.
Remember, COVID-19 is real. STAY AT HOME and if you must venture out, observe social distancing protocols as advised by the appropriate authorities.
Dr. Fagbemi equally commended the C.E.O of Fresh 109.5FM, Dr. Joel Yinka Ayefele for making frantic efforts aimed at curbing the spread of the disease as Dr. Ayefele further revealed that he would personally become an Ambassador to stand against the spread of the virus.