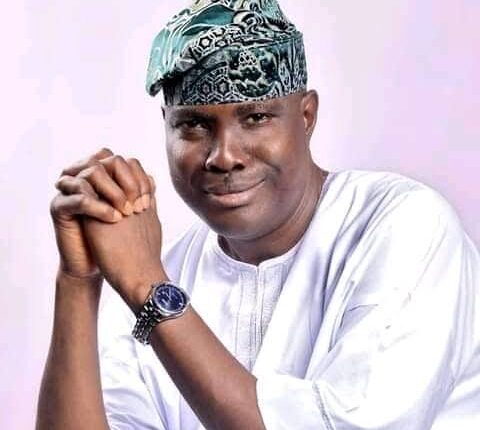 BREAKING : Hon. Muraina Declines Invitation To Oyo State PDP Caucus Meeting, States Reasons
Lawmaker representing Ibarapa North and Ibarapa Central constituency  at National Assembly, Hon. Ajibola Muraina has rejected invitation sent to him to attend Oyo State People's Democratic Party  caucus meeting scheduled to hold  tomorrow, 6th September, 2021 at Oyo state Government House, Agodi, Ibadan.

Muraina in a 3 pages letter addressed to the state chairman, Alhaji Yunus  Omokunmi Mustapha said failure to be transparent, fair, just and open-minded in running the affairs of the party by him ( Mustapha) as the state chairman is what is adversely affecting the party from the top to the bottom.
He questioned the competency of the state chairman who had failed to summon a statutory caucus meeting for PDP in the state when it was necessary and important.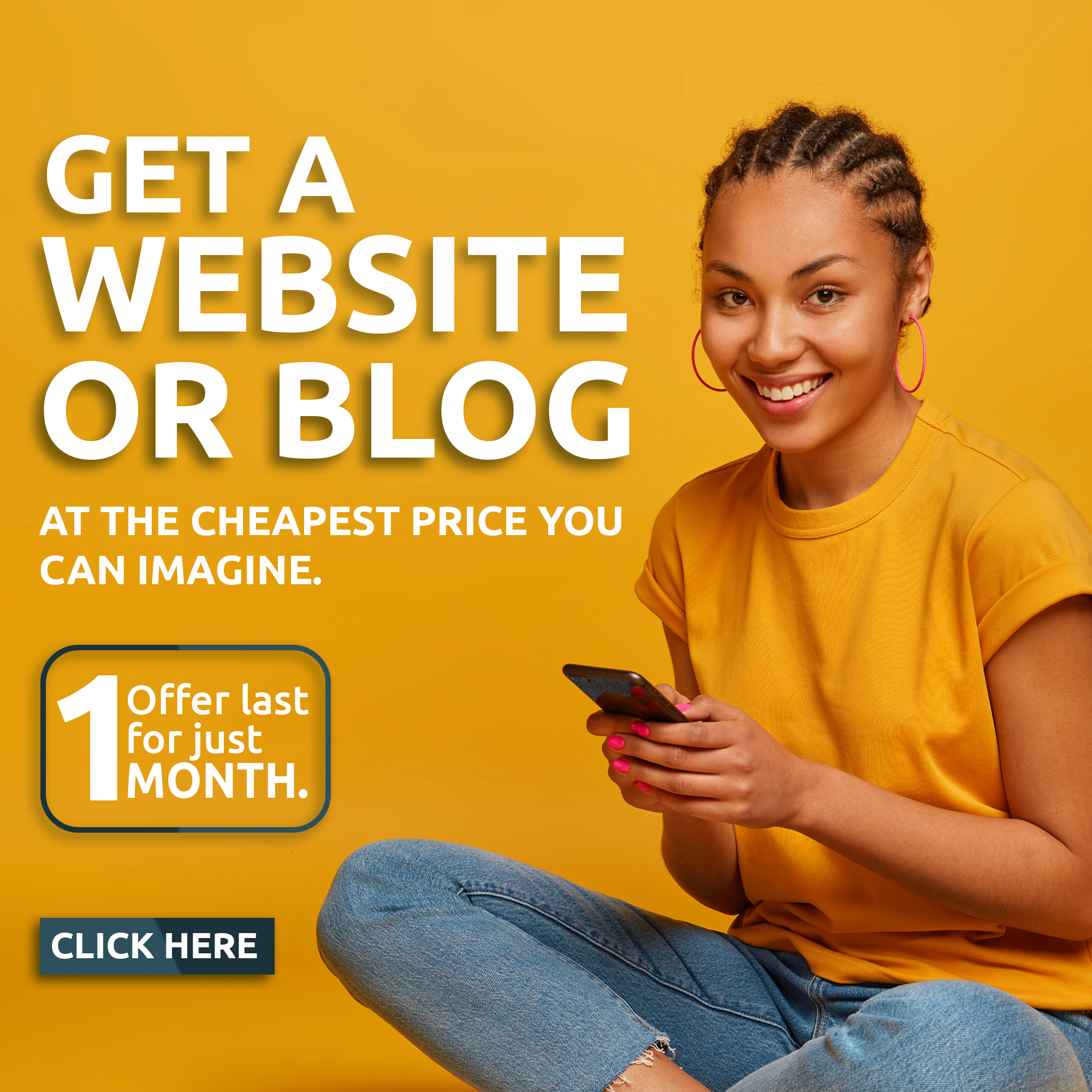 Hon. Muraina Ajibola letter read :
NOTICE OF OYO STATE PDP CAUCUS MEETING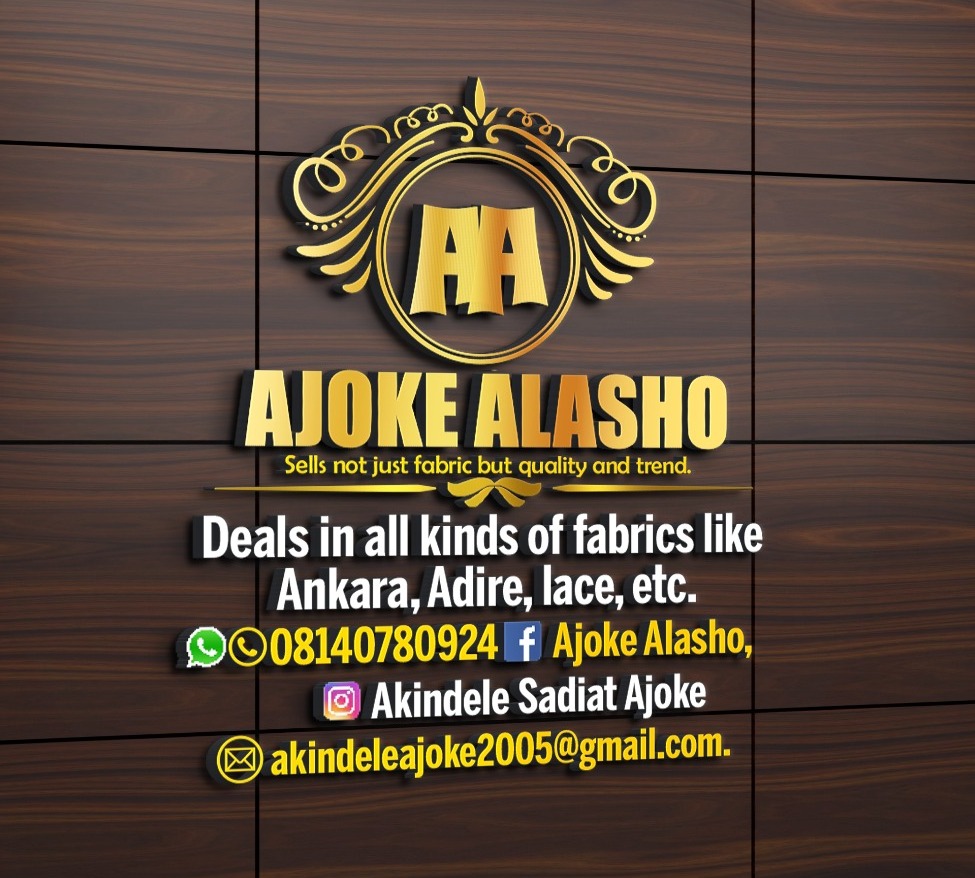 I refer to a text message I received from Alhaji Wasiu Adeleke Oyo State PDP Secretary by 7:41pm yesterday (04/09/21) and a hotice posted on PDP Oyo State whatsapp platform by one Davies Oluwaseun by 8a.m today (05/09/2021) on which Vour name appeared as the convener in respect cf the above inderiined subject matter summoninga meeting of Oyo State 1pDr Caucus (as Chairman of the Caucus) for tomorrow- Honday,6 September, 2021.
My Chairnan Sir whenever I receive a summon from our party (PDP) and indeed from the Chairman of the caucus (your good self) of a meeting of the caucus, I am duty bound to attend as a member of the caucus by virtue of section 22(1) (e) of the PDP Constitution (2017 as amended).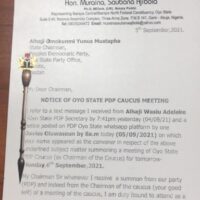 However, with due respect, this approach is part of what is destroying our party from the bottom to the top. Your Excellency is giving notice of this all important meeting of our party Caucus late yesterday or today (all weekend) for the meeting of tomorrow,- 6 September, 2021.
I am currently outside Nigeria and will insha Allah be back to Nigeria tomorrow by 3p.m, it is simply impossible for me to be at the scheduled meeting. I am sure that this may most likely be the case for very many of the members of the Caucus.
Failure to be transparent, fair, just and open-minded in running the affairs of our party is what is adversely affecting our party from the top to the bottom. For instance, this meeting that your Excellency is now hurriedly summoning is such an important statutory meeting which ought to and must be summoned and held once every quarter (that is four times in a year) at your instance as the chairman of the Caucus.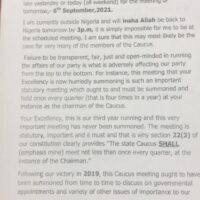 Your Excellency, this is our third year running and this very important meeting has never been summoned. The meeting is statutory, important and a must and that is why section 22(3) of our constitution clearly provides "The state Caucus SHALL (emphasis mine) meet not less than once every quarter, at the
instance of the Chairman."
Following our victory in 2019, this Caucus meeting ought to have been summoned from time to time to discuss on governmental appointments and variety of other issues of importance to our
government and indeed to our party (PDP) in Oyo State- but nothing of such.
Local Government Elections were held in May this year (2021) without summoning this very important meeting by which the party would have amicably resolved all issues relating to the Local Government Elections in line with our party structure and constitution which would have given every PDP member a sense of belonging and made our party united and strong.
Nevertheless, your Excellency is in the best position to know why this meeting of the Caucus is now hurriedly summoned even without adequate notice.
It is, however, very important that in all matters relating to our party we try to adhere to the sacred provisions of PDP Constitution (2017 as amended) to ensure justice, fairness and equity to all and sundry.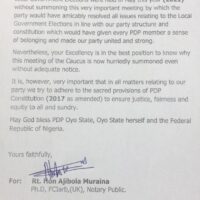 May God bless PDP Oyo State, Oyo State herself and the Federal
Republic of Nigeria.
Yours faithfully,
Rt. Hon Ajibola Muraina Ph.D, FClarb, (UK), Notary Public.