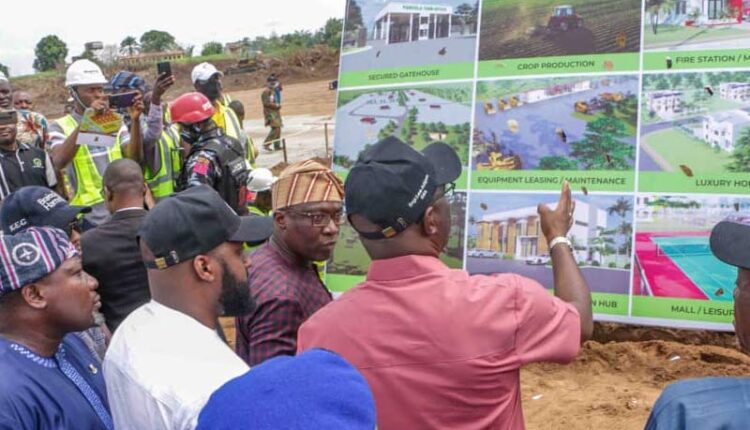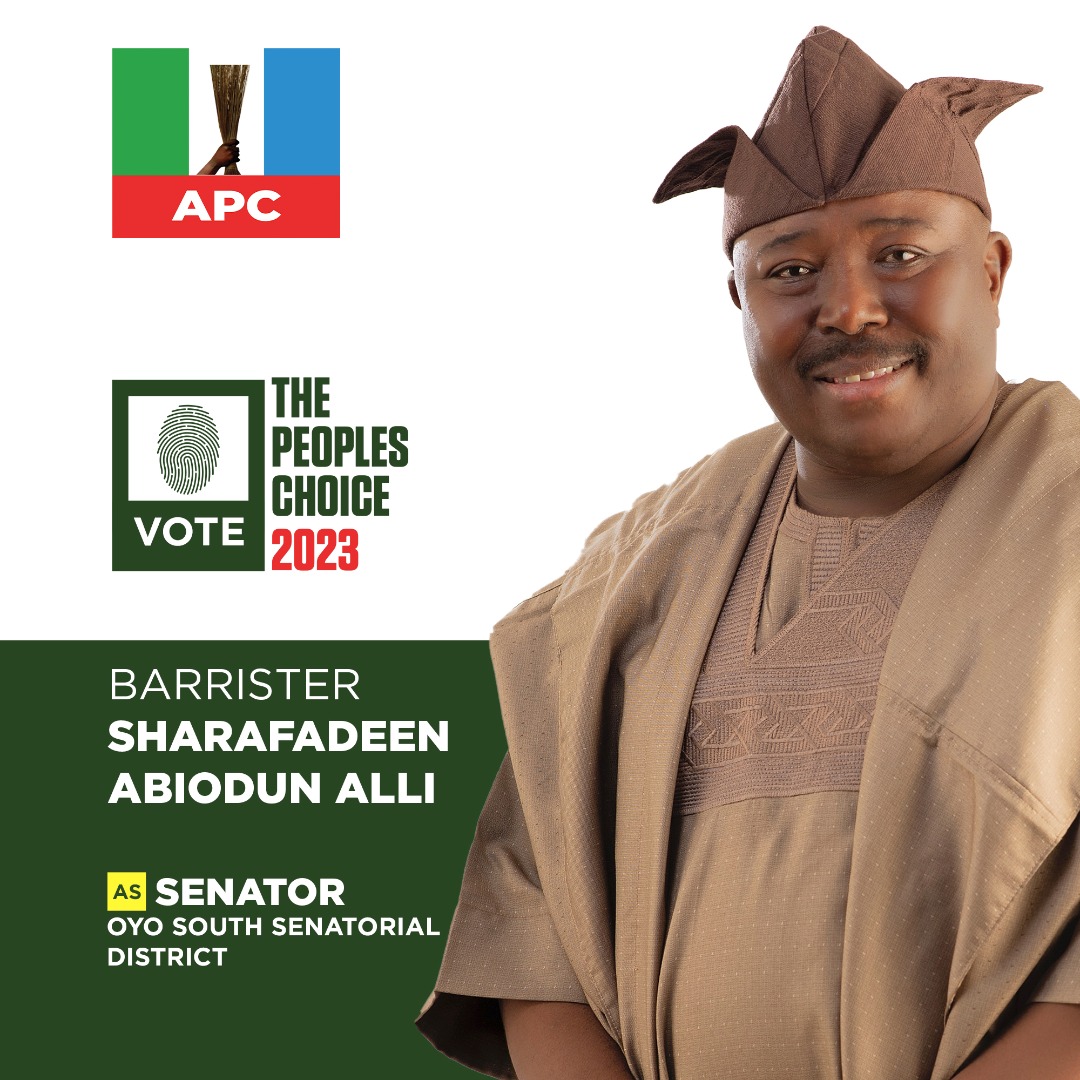 PART 2 – How OYSADA Cabal Frustrating The Good Intention Of Gov. Makinde – Youth Entrepreneurship In Agribusiness Project (YEAP)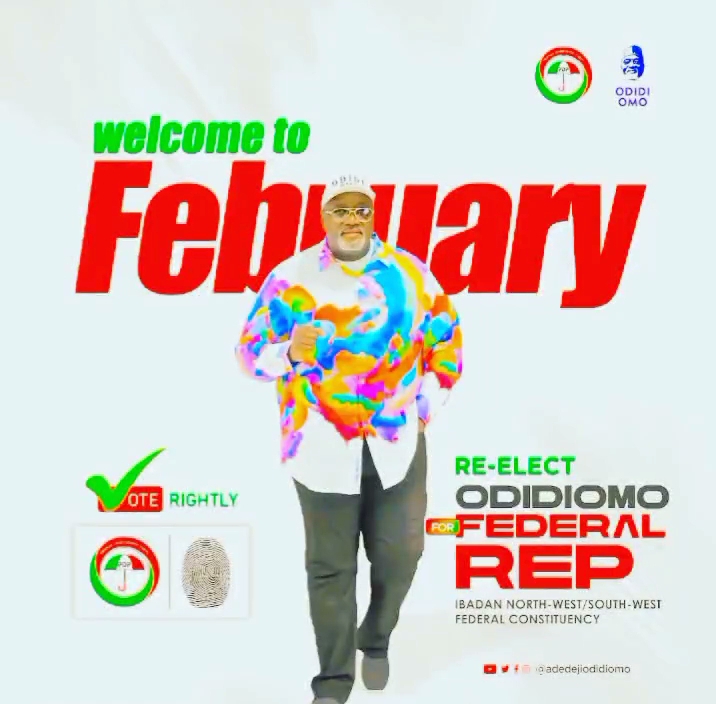 WHAT WAS PROMISED
Below is the advertisement put out by Oyo State Agribusiness Development Agency (OYSADA) early 2021 calling for unemployed youths to apply to participate in the project. According to this advert, they will be provided with 'appropriate agribusiness skills, mentorship, and business start-up support via training and hands on demonstration etc. (Please read advert). According to the 'Oyo State Roadmap For sustainable Development 2023 – 2027' (Omituntun 2.0) chapter 1 p11. produced by Seyi Makinde Campaign Organisation, 3,300 youths were trained in technology-driven agri-food systems under this project.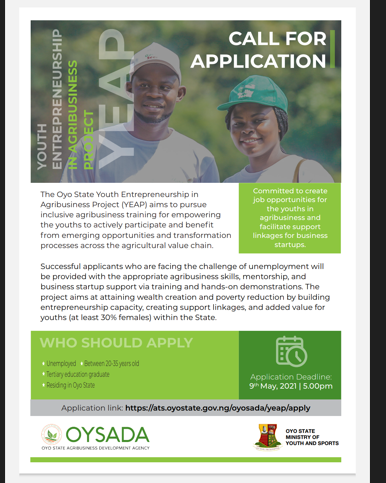 WHAT WAS DELIVERED
It can be confirmed that about 3,300 youths were trained in Nasarawa State IN 2022, almost a year after initial registration, and this was done in batches.
The beneficiaries interviewed confirmed that the training in Nasarawa was well organised and they learned from it. However, once they returned to Oyo State nothing happened, there was no plan in place to utilise their new skills. Many of these youths remain unemployed, many have gone on to learn different crafts and trades in sectors outside agriculture. Those interviewed stated that the only reason why they have remained quiet is their love and support for Gov. Seyi Makinde.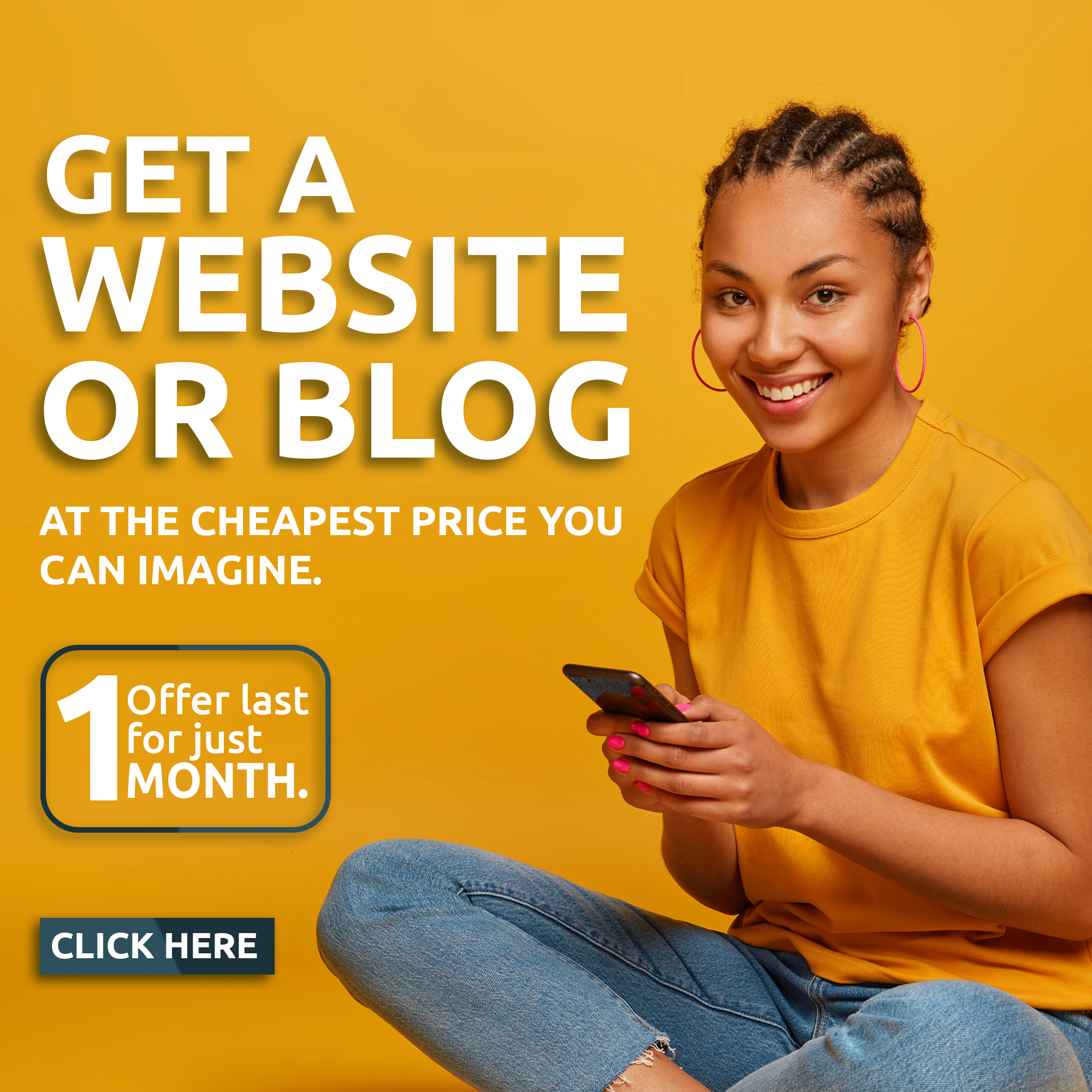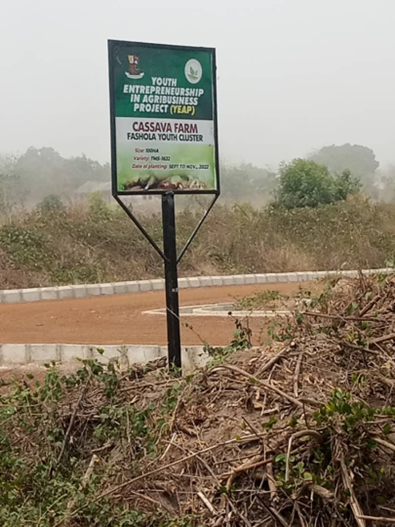 In September 2022, a handful of the beneficiaries (less than 10% of total beneficiaries) were given 100 Hectares of farmland in the Fashola Agribusiness Hub for Cassava cultivation (the picture to the left shows the signpost of the YEAP cassava farm). Now you begin to wonder why these youths needed to travel to Nasarawa State only to come back to Oyo State to plant cassava. What happened to the mentorship, wealth creation and all the ideas on the advertisement. It appears that nothing else happened in terms of mentorship or agribusiness start-up.
The Director General of OYSADA Debo Akande must tell the good people of Oyo State how much was spent on this training in Nasarawa State, how the final selection was done, and why is it that only less that 10% of the beneficiaries got engaged. Also, what is the point of all the investment in training these youths if all they will be engaged in doing using the traditional mode of farming to plant 100 hectares. How does this match up to what was promised. OYSADA must justify spending hundreds of millions on training these youths only for them to come back home to plant cassava.
For the YEAP programme there was no positive outcome for majority of the participants therefore this is a failed project where the scarce resources of the State have been wasted. We are calling on the Oyo State Governor Engr. Seyi Makinde to set up an independent panel of inquiry to look into the activities of OYSADA and particularly Debo Akande in relation to the YEAP project.
THE RURAL COMMUNITY DEVELOPMENT CENTRE AWE – now OYO STATE – IITA YOUTH IN AGRICULTURE INCUBATION PARK CENTRE
With regards to this Centre in Awe, it is alleged that the only improvement that has taken place is in the name of the centre. Information gathered from a credible source alleges that there is nothing happening at the centre. In fact, it is claimed that the centre is in a worse state now compared to what it was in 2019. This appears to be another money spinner for the OYSADA Cabal. Currently, there is no activity going on at the centre. The questions OYSADA and the ministry of Agriculture must answer are: What is the point of spending hundreds of millions of Naira to train 3300 youths in Nasarawa when there was no plan to engage them? Where are the tractors and other agricultural machineries? Why spend millions on Luxury houses and golf course/buildings?
YEAP appears to be a failure, and the Centre in Awe is dead.
OTHER PROGRAMMES
In relation to the claim of increased participation, it is claimed that 1,500 secondary school students have been introduced to various enterprises in agribusiness through the Start Them Early Programme. Also, 150 women entrepreneurs were trained under the support to Women Entrepreneurship in Agri-food Sector in Nigeria (SEFAN/SWEAN). It was claimed that another 300 youths were trained through the Youth Employment in Agribusiness and Sustainable Agriculture (YEASA) and the Empowering Novel Agribusiness Led Employment for Youth (ENABLE-TAAT). Several questions must be answered, these include: How were the participants in all these projects selected? When, where and what was the duration and cost of each of these training programmes? ? Finally, where are the participants today, are they employed or in any way contributing to Oyo State agricultural development?
Going by the alleged outcome of the YEAP project, the above projects must be carefully scrutinised to confirm the authenticity.
The creation of Oyo State Farmers register should be applauded as this allows for smooth interaction between the State and the Farmers. However, it is sad that for reasons best known to the OYSADA hierarchy, they decided to reinvent the wheel. There is a nationally recognised farmers association in Nigeria called 'All Farmers Association of Nigeria' (AFAN), with a branch in all States of the federation. The organisation has its Oyo State head office on Iwo Road in Ibadan and have a presence in all Local government areas of Oyo State. This is an association that encompasses all farmers (crop, livestock, poultry etc), they have a functioning executive who have collated the data of all their members across the state. They also work well with the national body. However, for whatever reason best known to the OYSADA CABAL, they concluded that the people in AFAN are not genuine farmers, so a 'special squad' in IITA was raised to create another database. The truth seems to be that if you do not bow to his lordship Dr. Debo Akande you cannot benefit from any agricultural project in Oyo State.
The Oyo State Governor has always presented himself as a man of the people and someone who detests corruption. This is evident in the establishment of 'The Oyo State Anti-Corruption Agency' (OYACA) in 2019 to combat corrupt practices in the State and to block financial leakages. It is therefore alarming that there appears to be several alleged mismanagements of public funds in the tune of hundreds if not billions of Naira by the OYSADA Cabal.
It is therefore in the interest of the State government and the citizens that there is an immediate and urgent transparency and open investigation into all projects initiated through OYSADA from its inception. It is important to bring to light what happened so the people of Oyo State will know how the limited State funds are being utilised. THE PEOPLE NEED TO KNOW THE TRUTH
...For the latest news update, Subscribe to our Whatsapp Channel
(Click Here)
and join our Telegram Update Group
(Click Here)