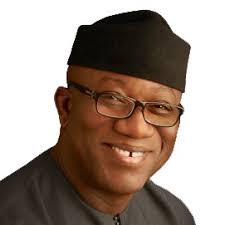 Oni Did The Right Thing By Challenging My Eligibility In Court – Gov. Fayemi
Governor Kayode Fayemi of Ekiti has pleads with his supporters, those of Oni and members of the APC to remain calm, insists Segun Oni did the right thing by challenging his eligibility in court
. Says now that the court has delivered its judgement, implores both supporters to focus on developing Ekiti.
"Going to court to seek redress or judicial interpretation of contentious issues would help in deepening our democracy. "In this particular case, ex-Governor Oni has done the right thing in seeking the intervention of the court," the statement said. Fayemi appealed to his supporters and those of Oni to remain calm and now focus on achieving victory for the APC in the forthcoming elections.
Oni, an APC aspirant in the primary election, had challenged Fayemi's eligibility on the grounds that the governor did not resign his appointment as minister 30 days before the party's primary. In the court's judgment, Justice Uche Agomoh held that Oni's originating summons challenging Fayemi's eligibility to stand as the All Progressives Congress (APC) governorship candidate is "completely lacking merit." Defendants in the case are Fayemi (first), APC (second) and the Independent National Electoral Commission (third).